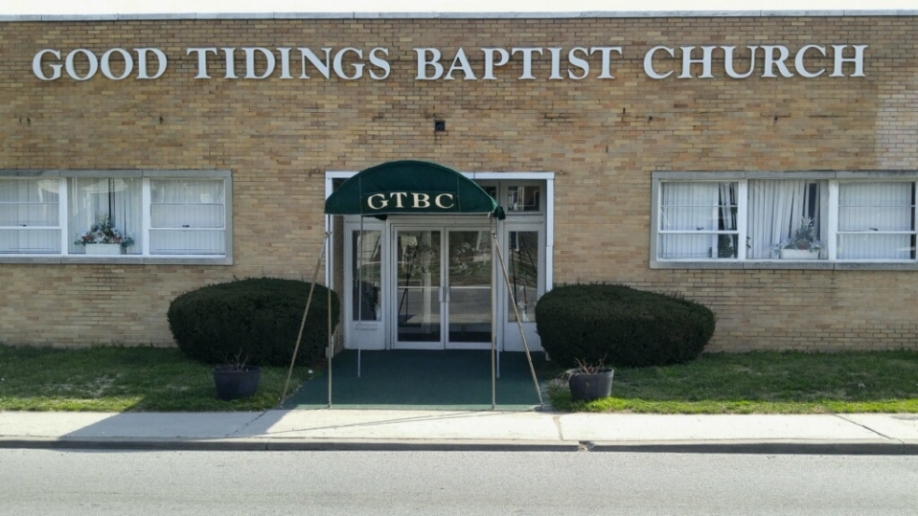 History of the Good Tidings Baptist Church
 In October 1966, a group of believers, bound by their faith in God and the need for a place to study, worship and fellowship, started what was known as the St. Louis Baptist Mission.  The first worship service was held in a storefront at 5008-10 Ivanhoe Avenue.  The founding pastor was the Rev. James A. Turner and the church began to take shape with the formation of their first choir, The Turner Specials.  Soon thereafter, a Missionary Circle was formed and the mission changed its name to the St. Louis Baptist Church.
    After five years of faithful service, Rev. Turner was called from labor to eternal rest and Rev. Roy B. Johnson, Jr. became the second pastor of the church in July, 1971.  
    Under Pastor Johnson's leadership, the church experienced tremendous growth which necessitated the search for a larger facility.  A suitable location, previously a Robert Hall Men's Store was found on Edison Highway.  The building was available, but there were some obstacles to occupation.  Finally, a bill was passed by the Baltimore City Council, changing the zoning restrictions on this property.  This cleared the way for the church to purchase the property.  Necessary renovations were made and the congregation marched into its new home in July 1979.  With a new home came a new name; the name of the church was changed to Good Tidings Baptist Church.  To God be the Glory!
    Programs and ministries of the church continued to expand.  Co-ops for both fuel and fuel were established, a credit union, Christmas Savings Club and Evangelism Street Ministry were added to the church, bringing the opportunities for outreach to more than twenty (20) different auxiliaries and ministries.  The church even provided monthly support to the Sango Baptist Church in Nigeria and the Pauline Baptist Church in Jamaica.
    With the declining health of Pastor Johnson, Rev. Samuel Murray, a faithful member of Good Tidings was installed as the under shepherd in January 2006.  He remained faithful to his charge until he too, transitioned to his eternal home in September 2014.
    Once again, Good Tidings was without a pastor.  After an exhaustive search, Good Tidings extended the call to Rev. Michael Alston to serve as pastor.  Rev. Alston was no stranger to Good Tidings, having preached at the church on numerous occasions at the invitation of the late Pastor Roy Johnson.  Rev. Alston accepted the call from the church and the charge from God, based on Isaiah 58; to cry aloud and spare not; to be a repairer of the breach, and a restorer of paths to dwell in.